Docusign - Electronic Signatures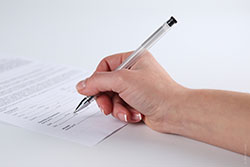 We offer DocuSign as a self-service e-signature solution to manage contracts, forms, and authorizations.
Benefits
Use existing application and enrollment form documents, or create new templates and workflows to

simplify

the process.

Save

money on printing, faxing, filing, scanning, distributing, storing, indexing and disaster recovery with all-digital transactions.

Create batch templates and automatic signing reminders, significantly reducing the time to administer applications and enrollment packages.

Real time

tracking

of the status of documents so you'll always know where forms are in the process and how many signatures remain.

eSignatures provide a more legally

binding

, fraud-resistant signature than pen and paper, complete with a court-admissible audit trail.
Best for
Digital Transaction Management with

audit

capability.

Tracking documents through various stages of

workflow

.

Converting existing paper forms and workflows which require legally binding signatures into digital forms.

Common or frequently-used forms or approval requests.

(Integration with Salesforce and UCSD-iDocs to simplify workflows and provide a secure document storage solution.)
Not good for
File or document storage in Docusign.

Business process management.

Surveys or data polling.

If your processes are broken, Docusign will not fix that issue.
Powered by
Get started
Review the Docusign rollout plan. (tbd)

Fill out our 

Docusign Form request form

.

Initial pilot testing will start in Q1 of 2016 with HR onboarding.